Spares & Services
Our organization takes pleasure to introduce its business as one of the leading entity offering Barcode Labels and Ribbons. These labels and ribbons are developed by expert professionals utilizing quality materials applying latest technology at our vendor's end. The professionals manufactured the labels and ribbons using optimum grade materials along with adhering to industry standards.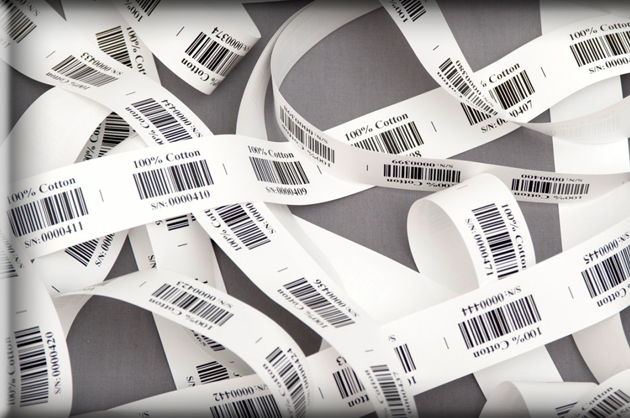 We are one of the Prominent Suppliers of Chromo Blank Die Cut Labels commonly known as chromo labels. The labels we supply are pre tested for accurate and match maximum print speed for mass production. We cater to the needs of our valuable customers from various industries including garment, pharmaceutical, electronics, shipping, warehousing, retailing etc. We have hundreds of dies ready to produce whatever specific size and configuration of blank thermal labels that you need. Our materials are of superior strength and durability, matching up to any other blank die cut labels available in the market today. High bond adhesive is standard and will prevent any peeling or loss of thermal labels once applied.

Available Labels:

Direct Thermal Labels are chemically treated, heat sensitive labels that print without the use of a ribbon. They are a cost effective solution for short term and temporary applications like shipping labels, pick tickets, name tags, receipts, and more.Their simple design makes thermal printers durable and easy to use. Because there is no ribbon, direct thermal printers cost less to operate than inkjet, laser, impact, and thermal transfer printers. Most mobile printers use direct thermal technology.

Piggyback Labels are designed for applications that require a label to be transferred from one location to another. Piggyback labels consist of two labels, one on top of the other. The top label is reapplied on an appropriate form, while the bottom label stays on the original surface. Depending on your needs, the bottom label can contain: Exactly the same information as the top label, Some other (supplemental) information, or It can be blank.

Non Tearable Labels Barscan Systems offers a highly durable, weatherproof non tear able label material for any tough label application. These polyester labels have a white and silver surface and a permanent adhesive. The Polyester material is tear resistant and depending on application can last up to 2 years outdoors. These labels are specifically designed to be used with thermal transfer. These labels have a minimum application temperature of +32 degrees Fahrenheit and can withstand temperatures ranging from -40 degrees Fahrenheit, to +200 degrees Fahrenheit. Use these labels for tough projects including on surfaces with rough edges and even for industrial applications.

Tamper Proof labels are used for anti counterfeiting, brand protection and tamper evident seals. Basically they are used for authentication, theft reduction and protection against counterfeit on equipments, instruments, electronic parts and components in industrial and manufacturing sectors. Destructive labels are made out of ultra destructible material, with very strong adhesive. These destructive labels, upon attempt to remove, will fracture and rupture into small destructive bits which cannot be mended, leaving behind the tamper evidence. These destructive labels can be provided with bar-codes and serial numbers for added security. Our silver polyester VOID labels, also known as Warranty Labels, feature a tamper-evident surface that leaves a "VOID" pattern on the label and the surface when the label is lifted. This tamper evident seal is great for use on electronic equipment, rentals, or any other items when you need to prevent undetected access. These void labels cannot be switched to another piece of equipment without detection. A resin ribbon is required for printing on the VOID labels.

We are engaged in presenting an impeccable range of Pre Printed Labels. These labels find wide application use in sequentially numbered bar-coded labels, shipping labels, inventory and asset tags, and safety compliance stickers. The offered labels are available in a number of styles including different colors, sizes, shapes, and adhesives. It is the most economical options available for the industry, whose information encoded in the bar code is fixed and requires several hundred labels per day.